In the symbolism of "The Lord of the Rings" the rings can be seen as complex constructions of enormous power, that can not be easily destroyed. The object of a ring symbolizes nicely the nature of such power structure. And the behavior in the Tolkins story adds nicely the character of such power structure.
KaraSpace is such power structure (Ring).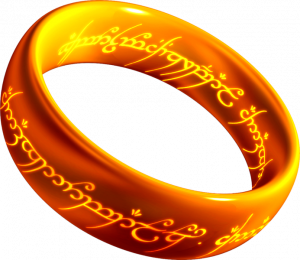 – It has been forged in a sophisticated manner and in a long period of time.
– It is highly desirable especially by the powerful.
– The structure of the power construction is the combination of many concepts that fuse together. The ends of the concepts fit together again, forming a closed loop or ring.
– At KaraSpace it is the combination of many technical, commercial and social concepts, that form a closed loop to exert the power.
– For a person to possess this power (wear the ring), it means to become corrupted by the power and ultimately serving the dark side.
– The ring must be given to a non-power seeking person (a Hobbit) that can resist the temptation to wear it and that can bring it to a safe haven.
– At KaraSpace the safe haven is the direct democratically governed KaraSpace Association.