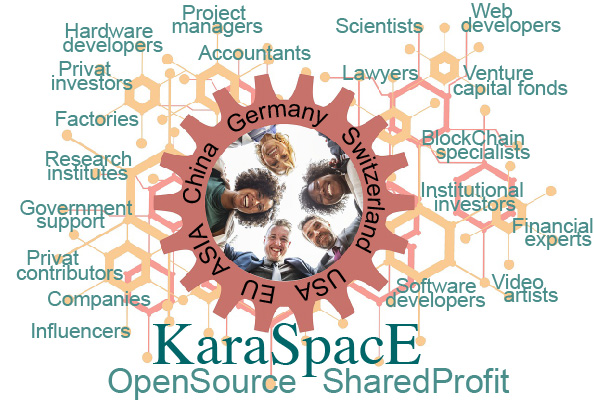 Join the community
KaraSpace is ultimately a virtual country that needs to be populated with citizens. To build this country, a lot of tasks need to be performed. This work will be compensated with the KaraSpace Tokens, which also turn the owner into a citizen.
The clue is, that with the project work, we will enable our patented mainstream AR-Glasses to connect the virtual country to the real world. That makes this tokens a powerful asset.
In the meantime, these tokens can be used to acquire diverse KaraSpace assets like virtual land for speculation.
The tokens will also be tradable on the crypto exchanges, but the citizens are being encouraged to hold their assets.
But citizens not only gain large profits, when KaraSpace succeeds. They ensure that ethics and privacy are upheld in the future AR-dominated world and are able to be an active part of the KaraSpace governance.
For a person or small company to join the community, you must register on our platform as a citizen. There you can specify your abilities, your charges and the level of commitment that you are able to guarantee.
For big companies, we created the AR consortium that must be joined to get integrated into the business processes and gain maximum IP protection and future benefits. Big organizations like the the HengShui AR & Big Data City have joined the consortium, spending many millions to further the project.
The KaraSpace Association is managing the commitment of the citizens and is evaluating each commitment to grant a respective amounts of tokens.
It is the fundamental character of blockchain and trusted computing that most systems will be open source. The KaraSpace community is securing the profit share of all members as tokens on the blockchain.
Brows the KaraSpace public tenders to see in particular which companies or professionals are needed, and what is expected from them.