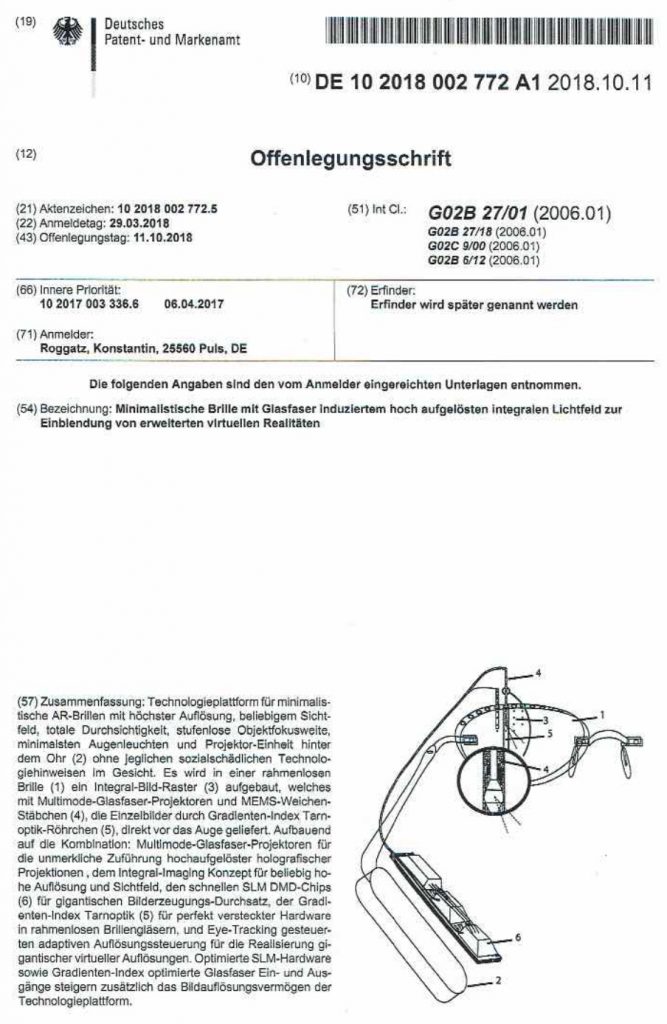 — Title: §268 Usergeräusche als Controller
— Number: Published in DE10201700003336.6
— Country: Germany
— Inventor: Konstantin Roggatz
— Status: know-how in patent.
Als Ersatz für den Mausklick, können verschiedene vom User erzeugte Geräusche genutzt werden. Dafür wird an der Brille oder einer anderen Komponente ein Umgebungsmikrofon oder ein Kontaktmikrofon für inner-körperliche Geräusche eingesetzt. Es werden die Geräusche bei der Kalibrierung dem Computer beigebracht und dann bei bedarf interpretiert. Dabei gibt es verschiedene Möglichkeiten:
UC1 Es wird ein zusammenklicken der Zähne im Mund als Klick interpretiert
UC2 Es werden andere userspezifische Mund-Geräusche interpretiert.
UC3 Es werden andere Laute oder Wörter vom User interpretiert.
The original german patent includes many patentable inventions which are not continued in the international patent applications for various reasons. They reflect the development of the KaraSpace AR Technology over the last years and show different strains of the AR technology and accessory products. Original PDF is here..
The Patent represents the wealth of know-how that is all applicable to further development.