Press release: 
The KaraSpace patent script has been officially disclosed by the patent authorities.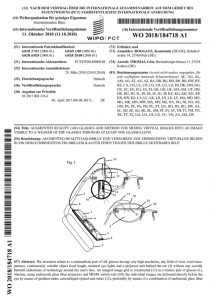 The patent published on 11.10.2018 reveals the years of development work by KaraSpace GmbH in the immediate vicinity of the Itzehoe center for MEMS micro mechanical systems.
A technology platform is revealed which obviously makes it possible to integrate a projecting system into minimalistic frameless eyeglasses which allows for highest retinal resolution with full field of vision and complete transparency of the eyeglasses.
This highest image quality, paired with the highest social acceptability and suitability for everyday use, opens up the mainstream market for so-called AR (Augmented Reality) or MR (Mixed Reality) glasses. A truly mass-market-ready AR goggle is recognized by industry experts as the future universal computing platform that will replace smartphones, notepads, notebooks, desktops, televisions, and game consoles.
Information sources:
Patent application PCT/EP2018/000140
Patent application DE 10 2018 002 772 A1
KaraSpacE GmbH, www.karaspace.com, CEO Konstantin Roggatz
IZET Innovation Center Itzehoe, Herr Thomas Schmidt
Further questions please address to:Konstantin Roggatz CEO KaraSpace, kroggatz@karaspace.com, +49 172 4502579
Example report in German language: